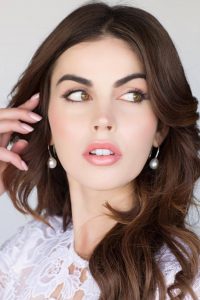 Kate takes the art of Eyelash Extensions to the extreme and Sydney Eyelashes is her pioneering innovation. Kate has many years of experience in the Beauty Industry and is a Master Eyelash Extension Specialist. As curator and key artist to the successful launch of her own business, Sydney Eyelashes is located in Sydney's Sheraton on the Park Hotel, where Kate has perfected the art of Eyelash Extensions.
Brides, corporate executives, print and broadcast media, regularly rely on Kate's expertise to make them look picture perfect. She has applied hundreds of Sydney's beautiful women with Eyelash Extensions with exciting results and enthusiastic responses.
With an extensive background in Beauty and Art education, Kate brings a particular creative expertise to her profession. A true artist, she has a unique ability to enhance and maximise the natural beauty of every woman's eyes. Over the years, Kate has devised a training program for Beauty Therapists and Salons seeking to learn the Sydney Eyelashes technique.
Upon graduation, Kate began to build her remarkable reputation as one of Sydney's Premier Eyelash Extension Specialists. Her thorough knowledge of the progressive developments in the Beauty Industry and her use of only the highest quality products available has allowed Kate to stay ahead of the trends.
Constantly striving to meet and exceed the expectations of her clients, Kate's dreams have come to fruition as her innovative artwork of Eyelash Extensions is finally available to women everywhere.